What is Ford Credit?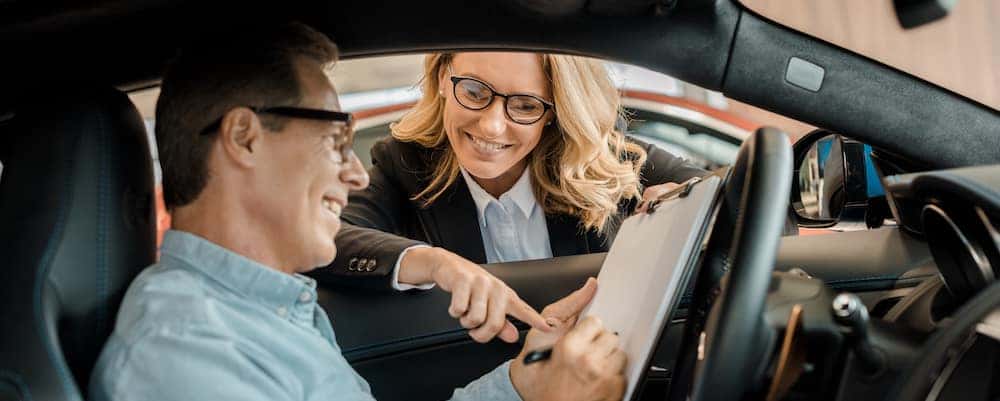 Ford Credit is the name of the Ford Motor Company's financial branch. They offer multiple programs and plans to help drivers from all walks of life secure the new Ford vehicles they've always wanted. Whether you have your heart set on a Ford finance plan or a Ford lease, you can count on their team to help you reach your goals.
Buying vs. Leasing with Ford Credit
Ford Credit gives drivers the option to buy or lease their new Ford. No matter which you choose, you'll drive home to Murrells Inlet or Florence with the knowledge that you've made a smart investment. Compare Ford credit plans for both pathways, here:
Buying with Ford Credit
If you're familiar with any Ford Credit program, it's probably the Standard Purchase. All new, used, and certified pre-owned vehicles qualify, and since there are no mileage limitations or hidden clauses, you can drive with the freedom that only true ownership provides. Of course, as you pay off your loan, you'll also build equity.
Drivers should be excited to learn of the Flex Buy Ford financing program, which lets you take advantage of lower monthly payments for the first few years. This special payment plan gives drivers a chance to upgrade with a new vehicle today, and increase their payments later when they're in a better financial position. You must choose a new vehicle to qualify.
Leasing with Ford Credit
Most drivers are familiar with the basic characteristics of a leasing contract, but they may not know that leasing with Ford Credit offers many unique benefits. With the Red Carpet Lease, you can choose between seven different mileage options for your contract. You can also settle all your leasing payments with a single lump sum when you sign the contract! If you choose to purchase the vehicle at the end of your Ford lease, you'll be able to pay a previously agreed-upon price.
Why Choose Ford Credit?
If you're going to finance your next vehicle purchase, you may be aware that you can get your loan from several different sources, including banks, credit unions, or your local dealership. Although there's nothing wrong with sticking with a lender you already trust, choosing to finance with Ford Credit brings numerous benefits:
Although any given lender might offer you special benefits, only drivers who choose Ford credit will be able to take advantage of the unique Flex Buy and Red Carpet lease programs.
When you secure Ford Credit with Beach Automotive Group, you'll benefit from our finance team's intimate knowledge of special Ford programs and savings opportunities.
Lastly, drivers who choose this route will be able to contact the Ford Credit team directly, and benefit from their own expertise as well!
Here at Beach Automotive Group, our full Ford inventory includes cars, trucks, SUVs, and even Ford commercial vehicles!
Buy or Lease Your Next Ford Vehicle with Ford Credit at Beach Automotive Group
With Ford in your corner, you'll have no trouble finding a new or used vehicle that has everything you need. That goes double if you search for a new Ford F-150 or a new Ford EcoSport at Beach Automotive Group! Not sure which model to choose? Compare the Ford Edge vs. Escape to get started.
In addition to our extensive Myrtle Beach inventory, we offer a huge selection of offers and incentives that you can use to save even more! Contact us today to get started.
Learn More with Beach Automotive Group