Volvo XC40 Named KBB Best New Model 2019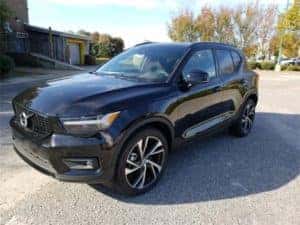 Have you heard the terrific news? The Volvo XC40 was named the Best New Model AND Best Subcompact Luxury SUV for 2019! Keep reading for the full story!
Compact SUV
The XC40 is in one of the hottest new vehicle segments: the compact SUV. It offers drivers and passengers alike a great deal of cargo space on a small frame. The XC40 combines modern style both inside and out. There's cutting-edge technology too! It's also the only vehicle that is available by subscription across the nation. You've heard of the Care by Volvo vehicle subscription program, right? If you haven't click here to learn more.
"We are extremely proud to win two more awards for XC40, especially these," said Anders Gustafsson, President and CEO, Volvo Car USA. "The people at Kelley Blue Book really know what they're talking about. By bringing design, technology, and safety features from our larger award-winning SUVs Volvo can offer luxury subcompact buyers a great value in a great package."

"The Volvo XC40 is an all-new vehicle, and it has wasted no time shaking up not just the Swedish automaker's lineup, but also the burgeoning segment of subcompact luxury SUVs. In shape, style and attitude, the all-new 2019 XC40 goes its own way," said Karl Brauer, executive publisher for Kelley Blue Book.
Kelley Blue Book
Kelley Blue Book created the Best Buy Awards in order to help shoppers with their vehicle buying decisions. It helps them refine their list of potential new cars so they can purchase without regret. Kelley Blue Book identifies the best of all available 2019 models. It also has a special emphasis on value-per-dollar in both ownership and purchase experience.
Stop by Beach Volvo
Beach Volvo at Beach Automotive Group has a great selection of XC40s available on the lot right now. Stop by or call us today!