Volvo XC40: Arriving Soon!
Introducing Volvo XC40
Recently, Volvo Cars announced a new standard of safety and user experience for the small SUV segment. This fall, they will be launching the new Volvo XC40. This vehicle developed around the challenges of modern city life. The XC40 aims to make the daily commute less stressful as well as more enjoyable.
Drivers of the new Volvo XC40 can now rely on the award winning safety, infotainment technology and connectivity as seen in the 90-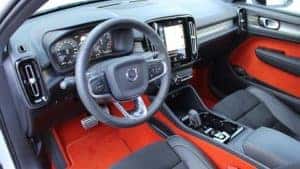 and 60 Series vehicles.
"The XC40 is our first car in this rapidly growing segment and has a clear focus on navigating today's hectic city environments. Building on Volvo's heritage as the leader in safety, the new XC40 will offer the best possible safety standards combined with an easy-to-use interface and convenient connected services," said Håkan Samuelsson, president and chief executive.
The Volvo XC40 is also the first car produced on it's new Compact Modular Architecture (CMA). It includes many ground-breaking technologies first introduced in the 90- and 60 Series. Those vehicles, at one time, manufactured on Volvo's much larger Scalable Product Architecture (SPA).
Circle of Life
The Circle of Life is Volvo's commitment to improving standard and technology. This is based on safety and user experience, consumer insights and not to mention real life data. Some of the safety and driver assistance features that are offered on the Volvo XC40 are Volvo's semi-autonomous Pilot System as well as the latest generation of City Safety. Run-off Road protection and mitigation, Cross Traffic alert with auto brake and the 360° Camera are also featured.
Beach Volvo
The XC40 hasn't arrived at Beach Volvo in Myrtle Beach yet. But, we already have other amazing 2018 models that have already arrived, like the S60 and the XC90. You really should stop by Beach Volvo today. We have a terrific selection of Volvo cars and SUVs available and ready for you to test drive. In addition, our excellent sales representatives are ready to help you! Please give Beach Volvo a call today or check us out online. Obviously, you're already on our website. Simply click on of the links above and start your journey top a new Volvo!