Volvo Cars, Bogi Lateiner Encourage Women to Join Auto Manufacturing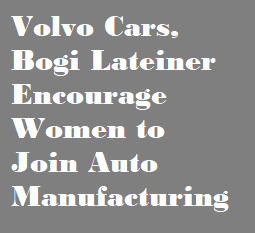 Volvo Cars and superstar custom car builder Bogi Lateiner have joined to call attention to the demand for more women in the automobile manufacturing with a custom, plug-in hybrid car design that combines 1960s style with contemporary technology, power and effectiveness.
Girl Gang Garage
Lateiner is the originator and head of Girl Gang Garage, a association of women dedicated to increasing gender diversity in the automobile business. The partnership emphasizes Volvo Cars' commitment to growing the amount of female technicians inside its retail system through fast-tracked training courses for existing automotive technicians, fresh graduates and military veterans.
Lateiner and her crew of expert and amateur female mechanics, body technicians, painters and welders, together with a group of brilliant female technicians in Volvo Cars' network that are Hybrid-Certified, are merging a 1961 Volvo PV544 coupe with workings from a Volvo S60 T8 Recharge Polestar Engineered sedan to produce "Iron Maven": a modern, 415 horsepower plug-in hybrid with classic design. The completed product is slated to be revealed at the 2021 SEMA Show in Las Vegas on November 2.
About Iron Maven
Iron Maven is the third All Female Build from Girl Gang Garage and is also the most intricate to date. It symbolizes the largest build of its kind, with over 150 women partaking from across the globe. The Volvo Cars Technical Support team, based in both the United States and in Sweden, are helping the team with select element and system incorporation.
A 'barn find' in the Phoenix, AZ area, the PV544 signifies a mixture of modest classicism and the company's legacy. The car will be designed and modernized to accommodate the mechanically advanced components from the S60 T8 Polestar Engineered sedan, comprising the plug-in hybrid drivetrain – a Drive-E, four-cylinder gasoline engine combined to electric motors. The Polestar Engineered suspension, modern vehicle control systems and the Sensus infotainment system are scheduled to be incorporated into the new car. Key modifications, custom 3D-printed parts, by-hand fabrication and technical assessments ensure the final car conveys through the spirit of classic, current and forward-looking aspects and methods.