The Volvo Concept Recharge is a New Platform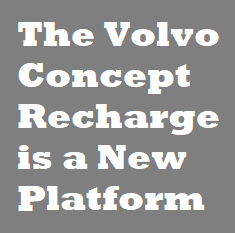 For Volvo Cars, electrification is going further than merely a change in powertrains. It signifies a new standard in car strategy and the Volvo Concept Recharge is a platform for the next group of all-electric Volvos.
True to the legacy of Scandinavian design, Concept Recharge has the mindset of 'less but better' at its heart. By eliminating the intricacy of the internal combustion engine, the engineers have been able to advance the car's ratios to boost interior room while also enhancing aerodynamic proficiency. The outcome is a vehicle that presents truly superior answers to help a balanced family life.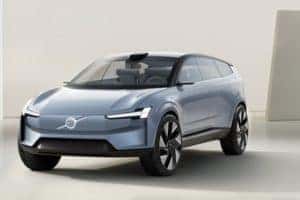 Volvo's first group of electric vehicles shares ground with combustion engine-powered vehicles, which necessitates a equilibrium in proportions and room to be able to have capacity for both a battery pack and an internal combustion engine.
The next group of Volvo's fully electric vehicles – the first of which is the corporation's first SUV on a totally new electric-only technology basis – will include flat floors, as shown in the Concept Recharge.
By eliminating the engine and substituting it with a full battery pack beneath the flat floor, the engineers have expanded the wheelbase and the wheel size of the vehicle. The end result is smaller overhangs, as well as a lot more inside room including a larger storage space sandwiched between the front seats.
In the Concept Recharge these improvements have led engineers to shift the seats, improve the roof profile and drop the hood of the car while maintaining the high eye point treasured by drivers of vehicles like the Volvo XC40, XC60 and XC90. This method produces productivity gains in aerodynamics contrasted to a typical SUV, which enhances range.
This concept car also presents a new Volvo layout language. Maintaining the premise of 'less but better', all needless elements have been eliminated and what stays is handled with a high-precision, flush implementation.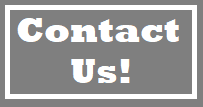 The usual grille has been substituted with a shield-like form, backed by a new understanding of Volvo Cars' Thor's Hammer headlight style. These involve the latest HD technology-enabled real graphic which open at nighttime to uncover the main lamp units.
Signature vertical rear lights relate to the brand's solid layout tradition but are reimagined with a set of wings that expand at greater traveling speeds to help enhance whole aerodynamics.
"Our Concept Recharge represents a manifesto for the all-electric future of Volvo Cars, as well as a new type of vehicle," said Robin Page, head of design. "It displays new and modern proportions that go hand-in-hand with increased versatility and shows what technology can enable in terms of design."
The Volvo layout language also takes a new structure inside the Concept Recharge. The flat floor offers more space and a nicer seating arrangement for all those within the vehicle.