Poll Shows Buyers Prefer Ford Electric Truck Over Tesla Truck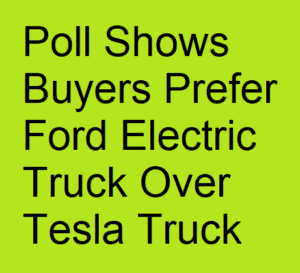 Ford has continually been a car manufacturer that is not frightened to take risks—and those risks invariably lead to elevated returns for this popular car maker. Owing mostly to their inclination to take risks and their proclivity to keep up with ever-shifting trends in the automobile business to keep the automobiles they design and yield pertinent and in high demand, Ford has been one of the chief carmakers on the conventional automobile market for over a century.
Over the past numerous years, Ford has additionally demonstrated itself to be an innovator in an all-new automobile sector of electric pickup trucks. Although they manufacture other vehicles, Ford is best recognized for the pickup trucks they construct and create. Moreover, the Ford F-150 pickup truck has been the best-selling automobile in the United States for virtually four decades, and it has been the best-selling truck in the U.S. for 44 uninterrupted years.
In 2020, Ford declared that they would be issuing an all-electric pickup truck at some point within the next few model years. Ford's first electrical pickup truck will be an all-electric adaptation of its treasured F-150 pickup and is slated to hit the mainstream vehicle market in 2022.
When you ponder over all-electric automobiles, Teslas are apt to be the initial models that come to mind. Tesla has been at the head of the electric automobile movement since they launched the world's first-ever first-class all-electric automobile back in 2012. In late 2019, Tesla revealed an example of their first all-electric pickup truck—which Tesla has chosen to title the Tesla Cybertruck. Some varieties of the Tesla Cybertruck are anticipated to be available in late 2021, while other types will not become obtainable for general purchase until late 2022.
Electric Ford F-150 Set Against Tesla Cybertruck
The all-electric Ford F-150 and the Tesla Cybertruck are two of the most enthusiastically awaited models in the electric pickup truck automobile sector. So how do these two top all-electric pickup trucks rate up to each other?
Cox Automotive—which is a division of Cox Enterprises—is a business that is dedicated to developing the automobile design, production, buying, and selling methods for average drivers, car dealerships, and carmakers globally. This firm completed a study that was created precisely to ascertain buyers' predilections between four separate all-electric pickup trucks—two of which were the all-electric Ford F-150 and the Tesla Cybertruck.
Because neither of these trucks has yet been distributed on the conventional vehicle market, this study's contributors did not get the chance to drive either truck prior to responding to the questions they were asked in a follow-up review. In fact, partakers were merely shown pictures of each truck included in the study. They were not informed of the make or model of any truck, nor were they offered product specifics on any of the trucks.
Cox Automotive's study evaluated 155 in-market customers. When shown images of both the all-electric Ford F-150 and the Tesla Cybertruck, nearly 60% of respondents to the assessment found the appearance of the F-150 EV most attractive, while only 19% of respondents found the Cybertruck's non-traditional look to be the most attractive.
The Results
When queried whether they would contemplate buying the all-electric F-150 or Tesla's Cybertruck, answers were tremendously slanted in preference of Ford's all-electric pickup truck. 45% of this study's partakers answered that they would be most likely to contemplate purchasing the all-electric Ford F-150, while only 32% of members answered that they would be most likely to ponder making the Tesla Cybertruck their next acquisition when met with several diverse all-electric pickup truck selections.
What Do the Results of this Study Mean?
The results of Cox Automotive's study reveal that the customary pickup truck appearance of the all-electric Ford F-150 is far more enticing to the normal buyer than the non-traditional, strangely gawky look of the Tesla Cybertruck.
Participants' survey responses from this study also determined that performance, design, and price are three of the highest urgencies of motorists who are in the marketplace for an all-electric pickup truck. Other considerations, such as brand name and work use, were deemed to be less critical to most survey contributors.
In all the groups that matter highly to shoppers, the all-electric Ford F-150 outdoes much greater than the other three all-electric pickup trucks that were involved within Cox Automotive's study—including the Tesla Cybertruck.