New Mazda Models arriving in Myrtle Beach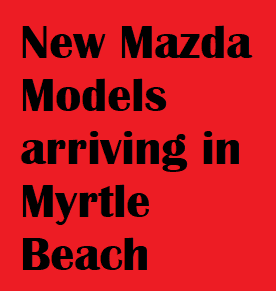 Mazda has recently revised its roster with some of the most superb models for 2022. This roster comprises of high-end sedans and SUVs outfitted with high-tech amenities and relaxation elements. Take a stronger glance at what these latest Mazda models have to offer ahead of visiting Beach Mazda today.
New Mazda Sedans
Horry County drivers looking for a relaxed but high-performance automobile for their daily travels and weekend retreats will be grateful for the newest 2022 Mazda3. This family-friendly sedan will take you everywhere with self-confidence and simplicity.
New Mazda SUVs
For greater power and improved off-road abilities, the new 2022 Mazda SUVs are a fantastic option. These automobiles take every journey to a different height with increased safety and technology elements that come standard. They likewise present a magnificent and roomy inside with remarkable maximum towing capacity. These new Mazda SUVs include the Mazda CX-5, Mazda MX-30, and Mazda CX-9.
New Mazda Convertibles
If you are in the marketplace for a spectacular new 2022 Mazda sports car, you will want to take a look at the latest roster of Mazda convertibles in our portfolio. These high-performance retro-styled Mazda versions offer amazing performance on the road and on the track. The latest 2022 Mazda convertibles comprise of the Mazda MX-5 Miata and Mazda MX-5 Miata RF.
Start Shopping Today at Beach Mazda
If you are fascinated in understanding more, we urge you to look through our forthcoming inventory of the latest Mazda models at our Myrtle Beach dealership. The new roster of luxury Mazda sedans, SUVs, and convertibles comes standard with improved equipment for relaxation and exceptional performance. These automobiles are ahead of the game, offering sophisticated ride quality, toughness and improved performance. Our team at Beach Mazda will be delighted to offer you more details, including trim levels, performance features, and availability.