New Lincoln Play: The new rear seat entertainment system!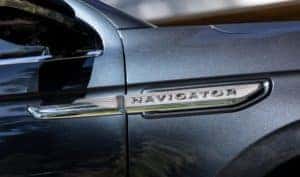 The next exciting technology in the new 2022 Lincoln Navigator is the new Lincoln Play Rear Seat Entertainment System. True, rear-seat entertainment is not new to Lincoln, but now Lincoln Play brings home connectivity and programming advantages to Navigator.
The World of Lincoln Play
Lincoln Play in Navigator offers the ability to stream a wide variety of today's most popular programming. It offers instant access to shows, movies, games and more. We'll tell Clients that they have access to more than a million TV episodes and moves. With 16 GB of storage for each screen, you can download video content and watch even without connectivity.
The TV Experience
The new Lincoln Play system is lightyears ahead of the previous system:
The displays are now dual 10.1" HD touchscreens
Features two Alexa voice remotes
Includes built-in HDMI input and USB charging
Offers multiple interface methods and inputs
Each of the two rear screens runs its own independent operating systems and has a voice remote for each screen as well. There is also a touchscreen menu on each display, making program selection even easier. Plug in headphone or use wireless Bluetooth headphones (included) to listen to the on-screen audio. Clients can even pause what they are watching at home and continue the program when they get in the vehicle. Now, second-row passengers can either share a program or watch and listen to two different programs independently.
That's Effortless Entertainment
Lincoln Play is an available feature on the 2022 Lincoln Navigator Reserve (200A and 201A) and Navigator Black Label (800A). It's another example of how Lincoln is extending connectivity and entertainment form Client's homes to their Lincoln vehicles.