Looking for a New Luxury SUV? Come to Beach Volvo!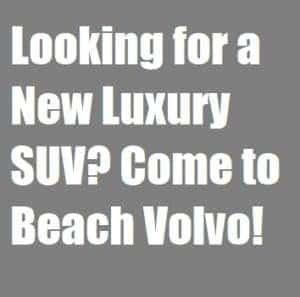 There are not many items that can meet the adaptability and practicality of a luxury SUV. When you have the desire to move family, or cargo, these automobiles can deliver an incredible driving experience. These automobiles are more than that, though. They can be enjoyable to drive and give you the excitements you thought were only feasible with a sedan. This can be witnessed in the Volvo roster of SUVs. Beach Volvo, located at 851 Jason Boulevard in Myrtle Beach, SC has an enormous assortment of some of the most admired Volvo SUVs on our lot.
The Volvo XC40: An Exciting Volvo SUV
If you are a Horry County driver looking for a luxury crossover, the Volvo XC40 is a terrific option for you. Motorists are often amazed at the XC40's opulent and stylish inside, as well as the presenter of the standard and available features, comprising of safety elements like lane departure warning. This Volvo SUV has an assortment of load and storage space answers for people to use.
The Volvo XC60: A Formidable Volvo SUV
Horry County drivers have lots of motivation to be in love with the Volvo XC60. This year it highlights the available T8 Polestar Engineered choice, which pushes out 400 horsepower for individuals who enjoy effortless acceleration. Additionally, folks who buy or lease an XC60 will get the advantage of a spacious amount of seating, as well as a standard 12.3-inch driver display. The XC60 is also chock-full of many standard features, like a panoramic sunroof.
The Volvo XC90: A Three-Row Volvo SUV
Three-row SUVs have undergone a huge surge in fame. The Volvo XC90 is Volvo's entrance into this market and it makes an imprint. Unlike some rivals, the seating in the second and third row is comfy and roomy enough for people to be able to relax. This Volvo SUV is also exciting to drive. Horry County motorists will observe that this vehicle has solid steering and responsive handling that surpasses anticipations.
Locate the Best Volvo SUV for You
Sitting in the driver's seat of a Volvo SUV may possibly be the crucial action to discovering which one is best for you. Stop by Beach Volvo, in Myrtle Beach, SC, or set up a test drive, and discover out which of these Volvo SUVs best suits your driving requirements.