Lincoln Way App 2.0 – Check it out!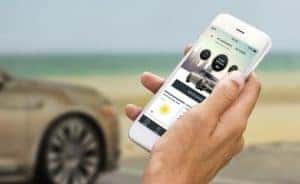 The Lincoln Way App was launched in late 2016, giving clients smartphone access to vehicle function and information. It also offers dealer services and owner amenities. It put a whole new realm of vehicle and dealer connectivity right into the palm of their hands. Here was a Lincoln-created, Lincoln-branded tool with the power to be the liaison between the client, the vehicle and the dealer, and of course Lincoln! Client and dealer response has been enthusiastic from the beginning.
In the Beginning
Since its launch, a steady and purposeful stream of service enhancements and upgrades have been made to the Lincoln Way App, such as:
Scheduling Lincoln Pickup and Delivery
Locating fuel sources
Searching to parking
Navigation
Service scheduling
Vehicle health reporting
The Goal
The goal has been to constantly improve usability, expand services and add access to resources that make Lincoln ownership a unique and effortless experience. Here are some statistics to illustrate how important the Lincoln Way App is to Clients and dealers:
87,568 active sustained members have visited the App in the last thirty days, as well as
My Vehicle, Operate and Concierge are the top three visited features
Approximately 2,000 new members join each week, as well as
Lincoln Pickup & Delivery has seen a 33.1% increase
Lincoln Way 2.0 – More Personal and More Capable
Introduced in the late summer of 2018, the Lincoln Way App 2.0 brought with it a new look, significantly expanded features and connectivity to more vehicle functions, driving and lifestyle-related services and Lincoln Concierge support.
Of course, the App puts user needs first, making it easy to understand and easy to navigate to reach the desired information or service. Content is categorized under four distinct descriptors:
Move – from the App landing experience to customizable Smart Cards, form vehicle information to Lincoln Pickup & Delivery, as well as
Find – making travel easier by helping Clients explore, search and find locations for fuel, parking, food and more
Concierge – enhancing a Client's ability to conduct voice and digital dialogue with a Lincoln Concierge, as well as
Account – combining Client's Personal Profiles, access to their Lincoln Automotive Financial Services accounts and their wallets with credit card information for selected payments
Beach Lincoln
Clients will surely find the Lincoln Way App 2.0 more flexible, easier to use and of greater value. It reduces stress and increases their satisfaction with their vehicle, their dealer and the Lincoln Brand. If you would like to learn more about the Lincoln Way App, by all means, please call Beach Lincoln at Beach Automotive Group today!