Lincoln Connect: Coming Soon!

Standard on ALL 2018 Lincoln Vehicles
Lincoln has offered an embedded modem on Reserve and Black Label models from model years 2015-2017. Benefits of the embedded model include : remote start, scheduled remote starts, lock/unlock and vehicle locator. It's all controlled through the Lincoln Way App. Now, beginning for model year 2018, the embedded modem gets a new name, new functionality and becomes a standard feature. Lincoln Connect is a 4G LTE modem with Wi-Fi Hotspot, in addition to all of the remote features of the previous embedded modem.
Available on All Trims
Lincoln Connect will be standard on all trims for 2018:
Lincoln Continental
and Lincoln MKZ
 as well as Lincoln MKX
and Lincoln Navigator
Benefits of Lincoln Connect
Lincoln Connect helps owners stay connected with their vehicles. Some of the benefits include: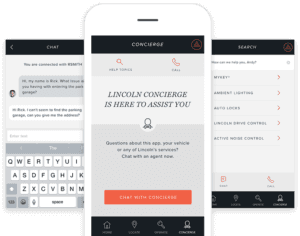 Wi-Fi Hotspot: Owners can utilize a Wi-Fi Hotspot that can connect up to 10 devised at once, so passengers can stay connected wherever they roam.
Vehicle Status: Within My Vehicles, drivers can monitor tire pressure, oil life and fuel level. They can also get approximate mileage to assist with trip planning and maintenance.
Refresh: Owners can press the Refresh Icon to update vehicle status.
Operate: Owners have access to Operate, which allows them to stay connected with their vehicles and save time. Owners can also pre-heat or pre-cool the cabin to their personal comfort preferences.
Remote Start
Schedule Auto-Start
Lock & Unlock
Remote Start: Drivers can press and hold the Start Engine button. The vehicle will run for 5, 10 or 15 minutes based on preferred vehicle setting through the Information Display
Schedule Auto-Start: Drivers can press the Scheduled Remote Start icon to schedule remote starts for specific times and also for specific days of the week.
Lock/Unlock: Owners can press and hold the Lock or Unlock button to control the doors from virtually anywhere.
Vehicle Locator: Owners can press the Locate icon to see the location of their vehicle whether it's parked or moving.
Call Beach Lincoln Today
The 2018 Lincoln models are already arriving at Beach Lincoln at Beach Automotive Group. Our knowledgeable and friendly sales representatives are ready to show you the benefits of Lincoln Connect. It's a perfect accompaniment to the perfect car. Have questions? Give Beach Lincoln at Beach Automotive Group a call today. We'll be more than happy to help you!