Is the Volvo XC90 Expensive to Maintain?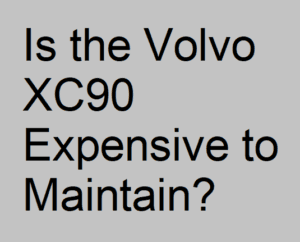 One of the major worries that consumers have when taking home a luxury SUV for the first time is identifying the expenses involved with upkeep. A general fallacy is that a luxury SUV like the Volvo XC90 will be extremely pricey to keep on the road for a long period of time. The reality is though, that the Volvo XC90 is no more costly to sustain than any other automobile, given you maintain the same consistently planned upkeep as you would on any other sedan or SUV you might purchase.
Continue with Oil Changes
No worry which Volvo XC90 you buy, you will be receiving an engine that employs forced induction to produce power. The utilization of turbocharging and supercharging is terrific for increasing power without depriving fuel economy, but it does indicate that your oil changes are right now more crucial than ever. Keeping pace with your consistently scheduled oil changes will assist you to handle the additional stress that occurs with forced induction engines, and that will safeguard your Volvo XC90 and keep it operating efficiently for hundreds of thousands of miles. Consider though, that each vehicle requires routine oil changes to ensure a lengthy and healthful life, but it turn out to be more vital to guarantee you are staying on plan and not allowing your oil changes fall through the gaps with an XC90.
Not Just Oil Changes
Just like any automobile, your vital parts for example brakes, steering mechanisms, and suspension all need routine assessments and regular upkeep to thwart potential parts malfunctions. When visiting Beach Volvo our skilled technicians will perform a multi-point inspection a part of each service center appointment to help you remain in front of problems and conserve cash on large maintenance matters down the road.
Visit Beach Volvo Service Center!
Our Beach Volvo service center in Myrtle Beach serves Horry and Georgetown motorists with knowledgeable Volvo maintenance and service technicians along with an inventory of authentic Volvo parts that will help keep your vehicle operating its finest for years to go! Not only do we support you keeping your Volvo XC90 operating well, but our handy locale and professional staff will guarantee you appreciate every single experience you have with us.