How to Update Lincoln Navigation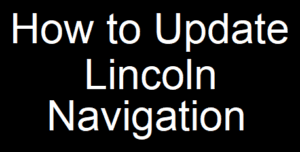 It may seem puzzling and complex but updating your Lincoln navigation system is effortless. The approach that you employ to update the navigation system varies on the vehicle's age. If you have the SYNC 3 infotainment system, you can simply update the car's navigation system by visiting the SYNC 3 Update site, which is likewise accessible through Lincoln's website. If you use older SYNC editions, you can go to the Lincoln Navigation Store to update all sorts of navigation systems, as well as voice-based navigation.
Enter the VIN & SYNC Serial Number
Through the SYNC 3 website, you will begin by entering the vehicle identification number (VIN) and the SYNC serial number, which is the ESN. The VIN is a 17-number proof of identity situated on the driver's side door or the windshield. The ESN is an eight-digit number found on the SYNC screen. Once you have found those numbers, you can add them to the search boxes on the website to check for updates.
Older SYNC Edition?
If you have an older SYNC edition, you can look for updates by going to Lincoln's website. To do so, enter your model and year. You can discover immediately if an update is offered. If it is, you will be forwarded to a product page to get helpful data about what the update involves, such as new product features, road data, and more. Once you have chosen your map update, you can go to the checkout page and finish the upgrade acquisition.
Many New Services
No matter which processes you use to get your Lincoln's map updates, you will realize that there are many new services to experience with an upgraded mapping system. First thing, the map system is backed by GPS technology to give you a multitude of valuable material. You can locate (and investigate) over 60,000 miles of roads with the map update and find more than 700,000 restaurants, contingent on your locale. The map similarly comes with some traffic sign detection technology that helps you find out about your area's declared speed limits. You can additionally find critical amenities such as ATMs situated nearby and gas stations in the surrounding area.
Occasionally, map updates need codes to install. If that is the case, and if you require help obtaining or retrieving the code, be sure to contact our welcoming and caring team at our dealership.