How to Connect to Ford SYNC®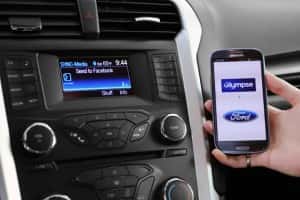 One of the primary advantages of a new Ford model is its ability to connect to other devices alongside a wide range of unique Ford technology. This is possible thanks to Ford SYNC®, Ford's infotainment system which Edmunds calls  "one of the easiest touchscreen tech interfaces to use." Connecting SYNC® is simple, and all Murrells Inlet drivers have to do is follow a few simple instructions on a Bluetooth®-enabled phone.
Connecting to Ford SYNC® on a Newer Model
Connecting to the Ford SYNC® system in a 2017 model or newer is nice and easy. You can also connect in select 2016 and 2015 models, including:
2016 Models

Escape

Edge

F-150

Focus

Mustang

2015 Models
Start by turning on your phone and vehicle. From there, turn on the radio/SYNC® system, and follow our steps:
Activate the Bluetooth® system on your phone

Select the "Phone" button on your infotainment center

Read the six-digit PIN number on the SYNC® screen and make sure it matches the number on your phone

Search for pairings and select 

SYNC®, which can be found in the Bluetooth® menu

Once connected, you'll see a message on the SYNC® screen that says "Phone is connected"

When your phone asks you to 

allow SYNC® to access your phone, click 'Yes'

If you've followed all the steps correctly, the 

SYNC® system will display the 'Phone Menu'
That's all it takes! After following these simple steps, you can now drive around Florence fully connected.
Connecting to Ford SYNC® on an Older Model
What if you have an older used Ford model? In that case, follow these steps:
Enable 

Bluetooth® on your phone

Select the "Phone" button to open the phone menu on your vehicle's screen
Select 

'Ok' then 'Add a device', then press 'Ok' again

At this point, Y

ou'll see a prompt that SYNC® is ready to pair devices, press 'Ok'

A message

 will say to search for SYNC® on your phone, press 'Ok'

Locate SYNC® and press it on your Bluetooth® menu

At this point, a 6-digit PIN number will appear. Enter that code into your phone.
Choose 

or ignore more phone options like pairing your phonebook

Get

 access on your phone to SYNC® by selecting 'Yes' in the prompt

E

xit the pairing process by hitting the back arrows to select 'Exit' and then press 'Cancel' to completely exit the Phone menu
Connect Your Phone at Beach Automotive Group
Now you know the answer to the question ""How can I sync my ride?"! If you have any additional questions, be sure to contact us at Beach Automotive Group. Be sure to check out our guide on how to use your Ford remote start, and how to program your Ford key fob, and find out how long brakes last, then stop by our dealership near Conway to et behind the wheel of an exciting new Ford today!
[di_posts posts_per_page="3″ thumbs="false" date="false"