Ford Tube – Appearing on a Screen Near You!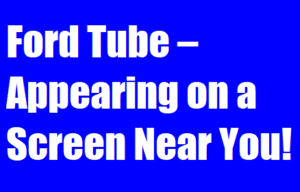 Ford Tube has a new and improved look and feel! With over 1,100 Ford videos available and nearly 200,000 views per year, Ford Tube serves us all very well! That said, like all facets of technology, things tend to change and evolve very quickly.
Upgraded
To keep pace, enhance your experience and make the site easier than ever before to use, Ford Tube has been upgraded! Now Ford Tube is mobile compatible. So, whether you are on your smartphone, tablet, laptop or desktop, you will find that using Ford Tube is just as easy as interacting with other video websites.
What You Will See
An entirely new user interface that features…
A more contemporary look and feel
Well-organized video topics and categories
Improved usability for smartphone and tablet users
Easier video searches
A consistent look and experience, whether you are at your desktop, or on your smartphone or even on your tablet!
Behind the Scenes…
There is also an all-new easy-to-use look and feel (interface) no matter what type of device you are using. Easily make adjustments and enhancements to ensure that you are getting the latest and greatest online technology to access Ford Tube videos.
Check It Out… You are Sure to be Impressed!
There's no change to the way you access the website whether you are on a smartphone, tablet or desktop. You can quickly access videos using the link here or here. For the best results, we recommend using a premium browser such as Chrome or Safari.
New Videos
New available videos include The All-New Ford Explorer and Introducing the 2019 Ford Raptor. There are many other awesome videos to view. If it is Ford related, it is on Ford Tube. By all means, check it out today! There are so many cool videos to watch that you could spend hours watching them.