F-250 Super Duty Wins Truck Challenge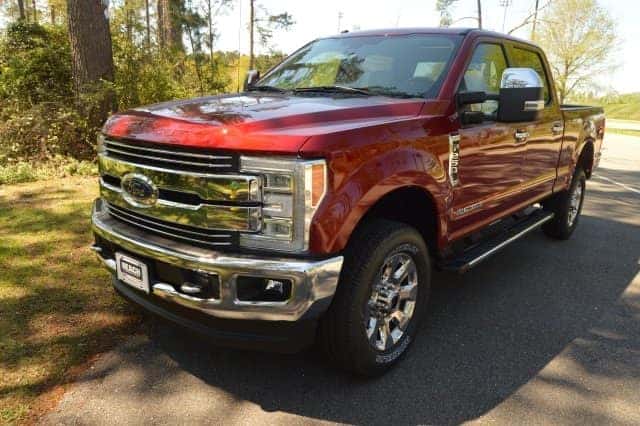 It's no wonder Ford brags about Super Duty Pickups. But when a respected third party like PickupTrucks.com names F-250 Super Duty XL 4×2 the winner of its 2017 ¾-ton Work truck Challenge, people sit up and take notice. With impressive power, capability and configurability, Super Duty proves once again why F-series has been America's best-selling truck for 40 years running. As can be seen, the F-250 Super Duty is an impressive truck!
The Ground Rules
The head-to-head competition involved five judges who rated the trucks in 13 different subjective categories. All trucks compared were base models ¾-ton, single cab 4x2s equipped with gasoline engines and a few options as possible. In addition to Super Duty, the competitive field included:
2017 Ram 2500 Tradesman
'17 Chevrolet Silverado 2500 WT
2017 Nissan Titan XD S
Power and Control
The gasoline-powered 6.2L FFV V8 features a large-bore architecture that includes large intake and exhaust valves and a shorter stroke design that contribute to faster engine speeds (higher engine rpm) and increased power.
Super-Duty First Place:
Zero-to-60 mph

6.49 seconds (empty)
8.60 seconds (loaded)

Quarter-mile

14.75 seconds @ 96 mph (empty)
16.5 seconds @ 86 mph (loaded)

Braking 60 mph-to-zero

144.4 feet (empty)
150.5 feet (loaded)
F-250 Super Duty 6.2L FFV V8 facts:
385 horsepower @ 5,750 rpm
430 lb.-ft. of torque @ 3,800 rpm
Mated to the new 6-speed TorqShift-G automatic transmission with SelectShift capability, as well as
Brake – power 4-wheel disc with Anti-Lock Brake System (ABS)
Why Super Duty Won – Overall
The judges felt that Super Duty outshone the competition in terms of how it hauled payload, how it rode empty, driver visibility, acceleration and braking (with and without payload). They also noted subjective elements such as:
Interior layout
Quality of materials, as well as
Numerous large and small storage spaces
Top-notch acceleration and braking feel
Number of bed tie-downs
Lighting features
Super Duty can carry about 66% of its weight!
Fuel for Thought
When you combine a high-strength, military-grade, aluminum-alloy body and bed with the impressive 6.2L V8 and TorqShift-G transmission, you get efficient performance that bests the competition.
Super Duty First Place:
Best fuel economy observed, as well as
Over 111-mile loop (empty)
Over 111-mile loop with 2,200 of payload (loaded)
Dyno
The new 6.2L V8 and 6-speed Torqshift-G automatic powertrain combo also helps Super Duty deliver almost 90% of its factory-rated horsepower to the ground. Each truck was tested on a dynamometer to see how well power is transferred to the wheels. Here again, Super Duty topped the competition.
Want to Learn More?
Are you interested in learning, more about the 2017 Ford Super Duty? Give Beach Automotive Group a call today!