CX-30: Mazda's New Compact Crossover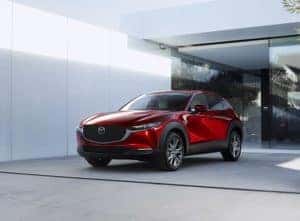 Have you seen Mazda's brand new compact crossover? It is the Mazda CX-30 and is a new core model. Keep reading to learn more about this all new Mazda vehicle!
Brand New Crossover
Just last month, the Mazda Motor Corporation introduced the CX-30. It is the second model in Mazda's new-generation lineup. The new CX-30 will roll out to the world beginning this summer in Europe. The CX-30 is a brand new compact crossover that combines the boldness of an SUV with the elegance of Mazda's Kodo design language. Mazda's development team truly hoped to develop a car that would enrich customer's lives. This is done by helping them and loved ones create new discoveries in their every-day life.
Comfortable
The new Mazda CX-30 is a user-friendly and comfortable compact crossover vehicle. It can easily and comfortably sit four adults. The CX-30 was also developed to be quite easy to drive. The height is increased versus a regular passenger car. That means there is more visibility. It is also easier to get into and out of the vehicle. The overall size of the vehicle makes it super easy to drive on any road.
Easy to Drive
The turning, braking and accelerating were seriously enhanced. Mazda's Skyactiv-Vehicle Architecture gives people the ability to make the most of their natural sense of balance. The latest Skyactiv engines, which include Skyactiv-X, allow great responsive control of the vehicle speed in any type of driving situation.
"We designed the CX-30 to be an essential partner in the customer's daily life," said Akira Marumoto, Mazda's Representative Director, President and CEO. "It will be made at key global plants so we can deliver Mazda's renowned driving pleasure and matured Kodo design to customers all over the world. Moving forward, our new products and technologies will ensure customers continue to see the value in owning a Mazda car. We aim to be recognized as a brand that forms the strongest of bonds with each customer."
At Beach Mazda
With this in mind, the new CX-30 hasn't arrived in Myrtle Beach yet. Of course, we will be the first to let you know when they hit our lot. We are certainly and eagerly awaiting their arrival! In the meantime, Beach Mazda still has a great selection of Mazda vehicles from which to choose. By all means, please call us today.