Alexa Built-In: An Enhanced Offering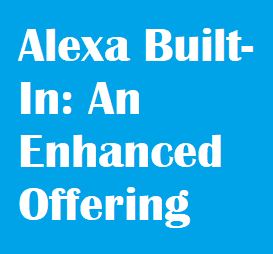 We are on a mission to provide customers with a range of appealing options related to how they choose to interact with their connected world. SYNC 4/4A with Enhanced Voice Recognition already offers all sorts of connected benefits, including the always helpful Ford Assistant. Now there is a new option, Alexa Built-In, offering two levels of engagement that let Ford and Alexa owners further connect to their world in enhanced ways.
NEW Alexa Built-In
In addition to Ford Assistant and building on Alexa Skill, the new Alexa Built-In service provides yet another new way for customers to interact with their vehicle. Alexa Built-In provides a two-way communication path, allowing owners to:
Use their Alexa in-home system to interact with their vehicle
Use Alexa Bult-In in their vehicle to interact with climate, navigation and radio/media controls, plus their connected world and home
Wake Word
Alexa Built-In is activated and responds to owner requests after they:
Speak a "wake word". Such as "Alexa" or
Press the Push-to-Talk (PPT) button on the steering wheel and say "Alexa"
To activate and control "wake word" settings, simply go to the vehicle's touchscreen and select "Settings," then "Alexa Built-In."
Two Levels of Service
From the factory, Alexa Built-In includes a 3-year service period of base features and a 30-day trial period of Ford Streaming services.
Alexa Built-In – 3-year Service Period (from the factory or as a Ford Power-Up software update)
Includes a broad array of capabilities, such as:
Local Media: Alexa, play 92.3FM
Phone: Alexa, call Mom
Navigation/Traffic: Alexa, how's my commute home?
Weather: Alexa, what's tomorrow's forecast?
Smart Home: Alexa, turn on porch lights
Communication/Announcements: Alexa, announce, on my way home
Organization/Shopping: Alexa, add cereal to shopping list
Ford Streaming – 30-Day Trial (from the factory)
This enhanced level of service supports in-home Alexa streaming capabilities, such as:
Flash Briefing (news updates): Alexa, play my flash briefing
Streaming Music: Alexa, play Alt Rock on Amazon Music
Audiobooks/Games/Podcasts: Alexa, resume my Audible book
Note:
Following the 30-day trial, owners continue to have Alexa Built-In services for the 3-year service period and may elect to subscribe to Ford Streaming via www.ford.com/connected services
Owners who download Alexa Built-In via Ford Power-Up software update will not receive the Ford Streaming 30-day trial offer, but may opt in to a subscription to activate enhanced streaming capabilities
Availability
The new Alexa Built-In services are available:
From the factory, on select new vehicles equipped with SYNC 4/4A with Enhanced Voice Recognition, including:

2022 Bronco, Edge, Expedition, F-150 (including Raptor), F-150 Lightning, Mustang Mach-E and Super Duty
5 F-150 (including Raptor) and Mustang Mach-E (including GT)

As a Ford power-Up software update and FordPass update to current owners if vehicles equipped with SYNC 4/4A with Enhanced Voice Recognition, including

2021 Bronco, Edge, F-150 and Mustang Mach-E
Ford + Alexa Skill – Currently Available
Alexa Skill is currently available to owners with an activated FordPass Connect vehicle and a FordPass account. Alexa Skill is a one-way communication path that allows owners to use their in-home Amazon Alexa device to give verbal commands to their vehicle, such as:
Alexa, ask FordPass to lock my vehicle
Alexa, as FordPass to check my fuel level
Alexa, ask FordPass how many miles are on my vehicle
Some commands, such as starting the vehicle or unlocking the doors may require the owner to include a security PIN, or the owner may simply include it in their request:
Alexa, ask FordPass to start my car using PIN number "1-2-3-4"