2022 Mazda MX-30 EV Introduction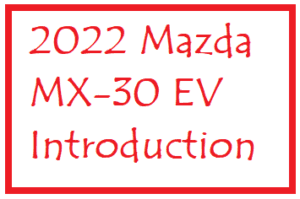 The brand-new 2022 Mazda MX-30 EV is the initial step toward the Mazda's pledge to electrification.
A Sure Standout
At first unveiling in California dealerships this autumn, the battery-electric MX-30 does not negotiate on Mazda's underlying beliefs of creating automobiles concentrating on the driver. The distinctive Kodo outer design and fashioned inside permit MX-30 to remain within the Mazda group, while standing out from other EVs. Once on the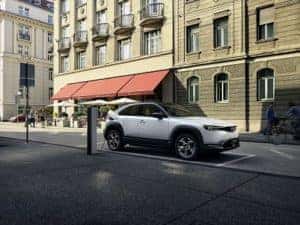 highway, the driver and passengers will be given to a known organic driving experience that Mazda delights itself on with all its automobiles.
Excellent Driving Dynamics
The modern-day designing creates intrigue, the attractive driving dynamics add pleasure, and Mazda's most recent elements bring the whole thing together to help make a passionate bond with the electric crossover. The MX-30 can effortlessly be the perfect mate for everyday commuting with an EPA expected range of 100 miles on a complete charge. Intended to meet the requirements of most metropolitan inhabitants, MX-30 is outfitted with a 35.5 kWh lithium-ion battery that helps preserve its excellent driving dynamics and let for a lesser environmental effect.
Charging Options
Whether on the highway or at a residence, charging will effortlessly fit into a driver's daily life. Mazda has joined with ChargePoint, one of the world's biggest charging groups to give MX-30 owners a $500 charging credit that can be applied to community charging or toward the acquisition of an in-home ChargePoint Level 2 charger. For those times when owners are experiencing inspiration to go on a long trip, Mazda is introducing a plan completely for MX-30 owners called, Mazda MX-30 Elite Access Loaner Program. MX-30 owners will have access to encounter other automobiles in the Mazda group for up to 10 days per year for the first three years of possession.
If you have any questions, please feel free to give Beach Automotive Group a call today. We have experts on hand that can answer your questions!