2019 Mazda3 Wins Its First Award!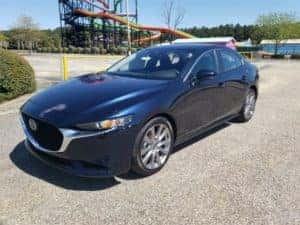 Did you hear the news? The 2019 Mazda3 has already won its very first award! Members of the Greater Atlanta Automotive Media Association (GAAMA) chose the 2019 Mazda3 as their "Biggest Bank for Your Buck" vehicle. This was at the recent 2019 Atlanta International Auto Show. For this reason, keep reading to learn more!
Greater Atlanta Automotive Media Association
"Mazda has strategically placed the Mazda3 in a class above," said Daryl Killian, president of the Greater Atlanta Automotive Media Association. "With all-wheel drive, sedan and hatchback options, Mazda has removed any justifiable reason for consumers to look elsewhere and with a premium all-wheel drive model coming in under $30,000, why would they?"
Development
Mazda has sold over 6 million Mazda3 vehicles since its introduction in 2003. Of course, the all-new Mazda3 has driven Mazda's development from both a brand and business standpoint. In addition to that, the 2019 Mazda3 is the first production model to spearhead Mazda into a daring new age. It blends second generation Kodo design and amazing driving dynamics. The Mazda3 was originally developed to motivate and generate an emotional tie with its customers on two very distinct manners. The hatchback and sedan models have different personalities: the hatchback is emotive and the sedan is elegant.
"The automotive press has had glowing things to say about the sleek and elegant Mazda3 sedan and bold and powerful Mazda3 hatchback," said Masahiro Moro, chairman and CEO of Mazda North American Operations and senior managing executive officer, Mazda Motor Corporation. "We're honored to receive GAAMA's 'Biggest Bang for your Buck' award as further affirmation that we are re-imagining and designing cars people are excited to drive."
Beach Mazda
Want to learn more about the 2019 Mazda3? By all means, give Beach Mazda at Beach Automotive Group a call today! We have the Mazda experts on hand ready to help you. Moreover, they are waiting to answer your questions and take you on a test drive! In other words, please don't delay!