2019 Ford Transit Connect in the Spotlight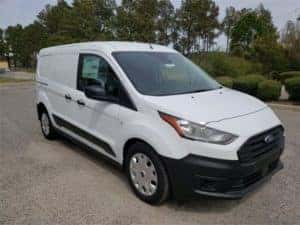 The 2019 Ford Transit Connect is a durable, versatile business tool. Power, capability, efficient size and operating expenses can be huge factors for both large- and small-business owners. They are factors that have changed the cargo van market as commercial buyers seek out and take advantage of right-sized alternatives to get the job done.
Engine Options
For 2019 Transit Connect Vans offer up a choice of gasoline or diesel engines:
2.0L GDI I-4 (Gas), as well as
1.5L EcoBlue TC direct-injection diesel (late availability)
Transit Connect Cargo Van can be the perfect solution for customer, offering compact size, efficient powertrains and maneuverability in tight spaces and congested areas.
Fuel-Conscious Features
Small-business owners may be especially interested in fuel-efficiency features, such as:
EcoCoach – uses driver input from the accelerator and brake pedals, as well as how the vehicle responds to those inputs to rate efficient driving behavior
EcoMode – assists the driver in operating the vehicle more efficiently by monitoring gear changing and speed while driving
Doors and Windows
A variety of choice lets customer tailor Transit Connect Cargo Van to their needs.
Side doors

Standard dual-sliding side doors with no side windows/glass, as well as
Available fixed glass on passenger side only or both sides; includes steel-mesh window guards

Rear doors

Swing-out, 180-degree, 50/50 rear doors (with or without glass), as well as
Rear liftgate with fixed glass
Generous Cargo Space in the 2019 Ford Transit Connect
With nearly vertical side and a flat load floor, plus two wheelbase choices, cargo vans deliver impressive cargo space and payload ratings. Interior highlights include:
2-passenger seating

Driver/front-passenger vinyl bucket seats on XL, as well as
Driver/front-passenger cloth bucket seats on XLT
Front seats provide excellent visibility and ergonomics

Standard comfort seats have been enhanced for 2019, as well as
Passenger seat back folds flat to create a writing or laptop surface
Optional composite bulkhead (with or without window)
Low floor height (under 2 feet) at rear door, as well as
Easily load cargo up to 4-feet wide, 4-feet tall and 7-feet long
Upfitting Made Easy
The online Upfit Configurator makes it easy to deliver customized rack-and-bins ship-thru packages for 2019 Ford Transit Connect.
Find it at transitupfits.com
The Configurator now includes upfits for both short wheelbase and long wheelbase models
Users can shop by vocational packages, such as General Contracting, HVAC, Plumbing, Electrical and Catering
Integration with ford.com Build & Price allows customers to choose their upfit while building out their desired vehicle configuration
Includes products from the best names in the upfit business – Adrian Steel, Katerack, Masterack and Sortimo by Knapheide
Saves time because vehicles are delivered to the dealership fully equipped to customer specifications