2018 Navigator: Part II, As We Promised!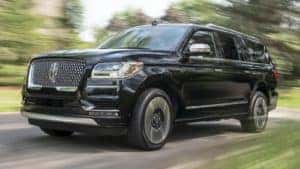 Just as we promised, here's Part 2 of our introduction of the 2018 Navigator! There was so much information about it that we had to split it into two posts. Now, we'll get to cover Adaptive Suspension, the Heavy-Duty Trailer Tow Package and Lincoln Drive Modes in detail. By all means, keep reading for all the fantastic details!
Adaptive Suspension
This feature provides an agile, smooth and confident ride by quickly adjusting the shocks to whatever road you're traveling. Through real-time data from driver and vehicle inputs, the adaptive suspension responds to the road and calibrates itself within 20 milliseconds (on average), allowing for near infinite variability of suspension response. Each wheel/shock responds independently of the other three, allowing tailored response to a variety of road conditions. The adaptive suspension helps to reduce body bounce, troll, pitch and vertical wheel motion. It also isolates the vehicle from undesired road harshness.
Heavy Duty Trailer Tow Package
Lincoln Navigator will be SAE-compliant  for the 2018 model year. SAE (Society of Automotive Engineers) had nationally recognized testing standards. Navigator is rated for Class IV towing and includes:
Electronic Traction Assist:
Designed to transfer power automatically to the rear wheel with the most grip

This power transfer greatly improves traction on slippery or uneven surfaces, such as boat ramps and is capable of providing a full lock across the rear axle, as well as
Manages torque distribution to optimize directional stability at all speeds

Heavy Duty radiator:

Provides excellent cooling capacity for towing trailers

Pro Trailer Backup Assist:

Provides added driver convenience and awareness when backing a bitched conventional trailer be allowing the driver to "steer the trailer" instead of steering the vehicle

Trailer Brake Controller:

Provides a factory-installed and fully integrated electronic brake controller that synchronizes the vehicle and electric trailer brakes for seamless braking

Two-Speed Transfer Case (4×4 only):

Manages power distribution between front and rear wheels
When properly equipped, Navigator has best-in-class 8,700 lbs. of maximum towing capability, just to point out.
Lincoln Drive Modes
Debuting on 2018 Navigator, Lincoln Drive Modes provides up to six modes that simplify and maximize the driving experience. With the simple turn of a knob, drivers can adapt the vehicle to changing road or weather conditions to ensure a smooth, confident ride. Specifically, Lincoln Drive Modes change many vehicle settings, including:
Engine throttle response
Transmission shifting, as well as
Adaptive suspension
Electronic stability control, as well as
Instrument cluster layout/info
In-cluster graphics help determine which mode to use and help take the guesswork out of how to set the 4×4 system (if equipped). Drivers control the modes with a rotary dial on the center console. They can view the high-definition graphic and descriptors of each mode, to help them determine which mode to use, of course.
Come see the 2018 Navigator at Beach Lincoln!
Whew! That's obviously a ton of awesome information about the 2018 Navigator! Have questions? We're here to help. By all means, give Beach Automotive and Beach Lincoln a call today. As a matter of fact, our Lincoln experts can answer your questions and have you rolling today!