2018 Lincoln Navigator: Part I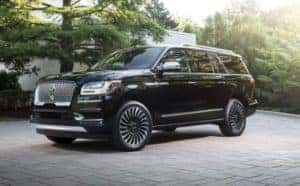 The all-new 2018 Lincoln Navigator is unquestionably a full-size and fully capable sport utility vehicle. Under its skin however, is the soul of a fun-to-drive sports car. Discover the power and performance features engineered to give Navigator driver the ultimate sport utility.
TWIN-TURBOCHARGED 3.5L V6 ENGINE
Navigator has a thoroughly capable, all-new Twin-turbocharged V6 engine that delivers smooth power when the driver demands it. Twin-turbocharged engine technology provides the fuel economy expect, with the performance they need.
450 horsepower @ 5,500 rpm
510 lb.-ft. of torque @ 3,000 rpm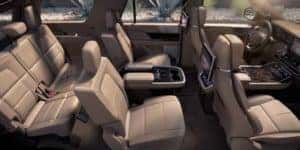 The all-new Twin-turbocharged 3.5L V6 achieves its balance of power and economy through key technologies:
Twin-turbochargers maximize peak power and provide low-speed torque with improved response
Dual-direct and port-fuel injection features two fuel injectors per cylinder. One injector is located in each intake port where air enters the cylinder (port injection). Another injector is located inside each combustion chamber (direct injection). These injectors work together to improve power output, efficiency and emissions.
10-SPEED SELECTSHIFT AUTOMATIC TRANSMISSION WITH PADDLE SHIFTERS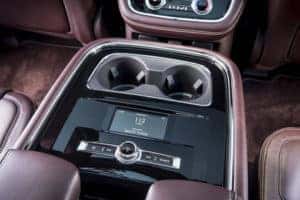 The Job of the transmission, other than sending power from the engine to the drive wheels, is to make the most efficient use of both torque and horsepower. Having more gears helps to do that. Paddle shifters allow the driver to keep his or her hands on the steering wheel and change gears up or down without a clutch. Algorithms monitor more than a dozen powertrain and driver-control signals to ensure the right gear at the right time.
ACTIVE NOISE CONTROL
This feature of the 2018 Lincoln Navigator helps cancel unwanted vehicle noises electronically and enhance desired sounds. Active noise control (ANC) uses microphones in the cabin to detect and cancel specific unwanted low-frequency noise., and send opposing sound waves thought eh vehicle's speaker system to refine ambient sound. ANC also creates a tailored sound experience by enhancing desired noise. In Excite mode, the ANC System also provides a more pronounced, performance engine sound note that aligns with the overall driving experience. A customized cabin environment is the result.
MORE NEXT MONTH
There's so much more to go over, too. It can't all be listed at once. Check back next month for part 2! In the meantime, check out Beach Lincoln's current inventory.